These are exactly the same files (
Plugin
/Theme: Woocommerce Multilingual 4.6.5) distributed by OnTheGoSystems, but we don't offer any additional author services like author's support and license keys (read our FAQ for more Info).
| | | |
| --- | --- | --- |
| Name | Range | Discount |
| Pack15 | 1 - 1 | 5 % |
| Pack15 | 2 - 2 | 10 % |
| Pack15 | 3 - 1000 | 15 % |
You can translate everything that WooCommerce offers, including products, variations, categories, fields and attributes.
Simple translation interface
Multi-currency payment
Compatible with most Woocommerce themes and extensions
To use WooCommerce Multilingual, you need to have the following plugins installed and activated:
WPML 4.0 or above
WPML String Translation 2.8 or above
WPML Translation Management 2.6 or above
WooCommerce 3.3.0 or later
If you want to use different media (images) for different translations of a product, you need to install WPML Media.
If you are working with a developer, they should install and setup all the necessary components listed in this section.
You can get all WPML components from your wpml.org account, under Downloads. WooCommerce Multilingual and WooCommerce are hosted in the WordPress plugins repository. Got all plugins? Let's start!
Using the Installer for easy plugin download and updating
WooCommerce Multilingual has a built-in Installer for downloading, activating and updating all of the required plugins.
After you activate WooCommerce Multilingual, go to the Plugins page and click the Add new button on top. You will be presented with a list of plugins categorized under different tabs including Featured, Popular, Recommended, Favorites and Commercial.
Click the Commercial tab and you will be presented with an option to buy a WPML license or enter the registered site key if you already bought WPML. Once you have bought the plugin and registered your site via your Account page, you will be presented with a list of plugins available to download, activate and update.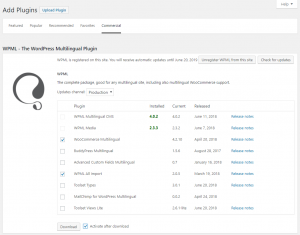 Using The Setup Wizard
WooCommerce Multilingual features a Setup Wizard to help guide you through basic steps of configuring your site with WooCommerce Multilingual plugin.
Once you activate all the required plugins, the WooCommerce Multilingual Setup Wizard will start automatically.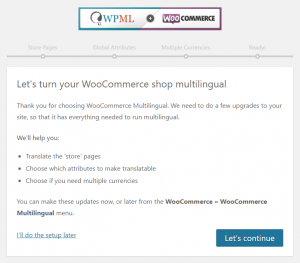 As you can see from the above image, the Setup Wizard is very similar to the WooCommerce's own configuration wizard. It will help you configure the following settings: Translating store pages, selecting translatable Product Attributes, and enabling the multi-currency mode.
You need to have the standard WooCommerce pages appearing in all languages in your site. WooCommerce Multilingual will do this automatically for you. This is also handled in the Setup Wizard. To do this manually, go to the
WooCommerce
->
WooCommerce Multilingual
page and click the
Status
tab.If you did not yet setup the
store
pages there will be a message telling you that the store pages don't exist, offering to create them.
WooCommerce Multilingual will create these pages with the available translated page titles. You can always change the page titles in different languages later.
On this page, you will also see warnings about missing translation for taxonomy terms. If you are using taxonomy for product variations or to organize products into categories and tags, it's a very good idea to have all the taxonomies translated.
Translating WooCommerce Checkout and Cart pages is a bit different than translating the rest of WooCommerce content. The theme and plugins in your site often provide these translations but in some cases, you need todo some additional steps.
Most stores are arranged by product categories. Some also use tags. If you are using variations, you are probably using product attributes as well. WooCommerce Multilingual makes it easy to translate all of these. Alternatively, you can set WooCommerce Multilingual todisplay original product categories, tags and attributes if their translations are not available.First, create the product categories, tags and attributes in the default language, using the standard WooCommerce editing interface. When creating Attributes, they are marked as translatable by default. You can change this option for each attribute at any time.Don't worry about translating categories, tags and attributes just yet.Hint:product categories, tags and attributes are all stored as WordPress taxonomies. WooCommerce Multilingual includes a convenient interface for translating taxonomy terms. Go to theWooCommerce->WooCommerce Multilingualpage. This time, look at the other tabs on the screen. You will see a tab for each of the taxonomy that belongs to your store.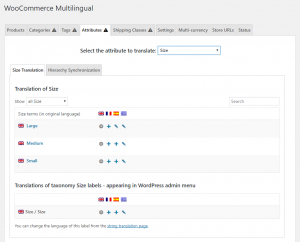 Each of these tabs includes a different taxonomy. Click on it to see all taxonomy terms and translate them. To translate a term, click on its label. You will need to enter the name, slug, and description. The name is what's displayed on the screen. The slug appears in the URL and the description shows on the WordPress admin when editing. If your store includes many categories, or other taxonomy terms, use the search function to locate them quickly.
Translating custom taxonomies from the WooCommerce Multilingual page
Starting with version 3.9, WooCommerce Multilingual allows you to translate any custom taxonomies associated with WooCommerce Products, right from its main page. There are many plugins for adding custom taxonomies to your site, likeToolset Typesfor example. Additionally, some plugins and themes automatically add custom taxonomies to Products. For example, a theme called Adventure Tours creates a custom taxonomy called "Tour Categories", and you can translate it just like any other custom Product taxonomy.
Once a custom taxonomy is associated with Products, a "Custom Taxonomies" tab appears on theWooCommerce->WooCommerce Multilingualpage.
Taxonomy terms are translated by clicking the"+"icon for the corresponding language.
Please note that at the moment, it is not possible to translate the base slugs of the custom taxonomies associated with Products.
Now that your product taxonomies are translated, it's time to translate the products. Here, you have two options. One is to display only translated products on your site. The other is to display the translated products, but if translations do not exist, display product contents from the original language. In this case, only the product contents are displayed in the original language while the rest of the site, like menus and widgets are still displayed in the current language. Learn more about this on the page aboutdisplaying untranslated products in secondary languages.First, create the products in WooCommerce in either the default language or one of the secondary languages. Don't worry about translating them just yet. Create products normally, as you do with WooCommerce. You can create standard products, variable products, downloadable products and anything else that WooCommerce has to offer.Once your products exist, go to theWooCommerce->WooCommerce Multilingualpage, you will start on theProductstab.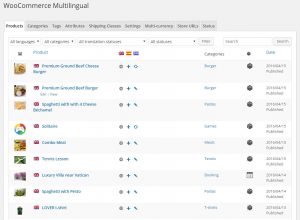 The products table gives you a summary of all products in your site. If you have many products, use the filter on the top of the page and search to reach the exact products you are looking for. Each language has its own column with translation status icons. They help you find products that are untranslated or need update. Click on thePen iconto edit existing product translations or thePlus iconto translate the product.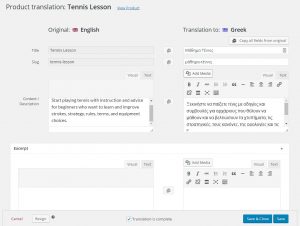 You can translate your Product's information using theProduct translation editorthat you are taken to. You can translate products from the language that they were created in into all the other languages defined in your site.
Translating Product Add-ons
WooCommerce Multilingual allows youto translate fields added to Products by various WooCommerce extensions. All the fields and options that supported extensions add to your products will be automatically translatable on the Product Translation page.
The following image shows theProduct Add-onssection found on the Product Translation page.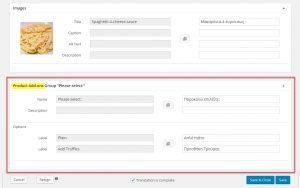 To find a comprehensive list of all WooCommerce Extensions compatible with WPML, please visitwpml.org's extensions page.
Download verified by

 

McAfee Secure
All future

 

updates for one year
100
%
CUSTOMER SATISFACTION
Much more features are available
Discover PREMIUM plugins features to see what you get with StartUpPack.Net
Our WordPress plugins are used by thousands of customers